A Dusty Mars!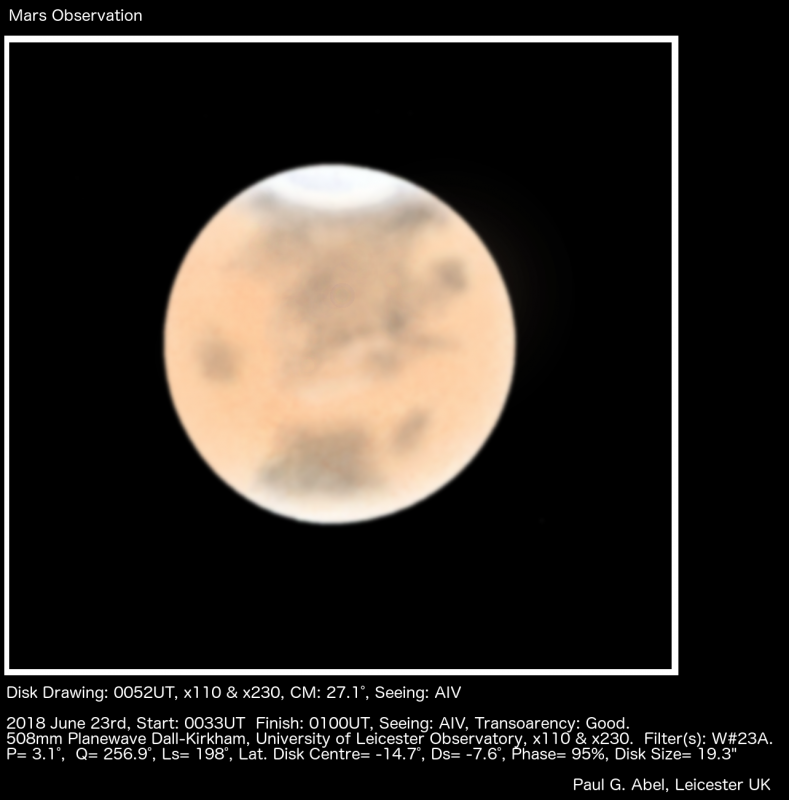 About this observation
Time of observation
23/06/2018 - 00:33
Equipment
508mm Planewave Dall-Kirkham
x111 & x230

Like This Image
Share
Here is an observation of a somewhat dusty Mars I made last night with Dr Hugh Sasse using the 20" Planewave Dall-Kirkham telescope at the University of Leicester Observatory. Seeing wasn't great- around AIV for much of the time, but the strong salmon colour of the planet means that visually it seems less disturbed by poor seeing.
This is the first time I have seen Mars since the last apparition- the first thing that struck me was just how bright the planet was in the morning sky, and how large it looked through the telescope even at x110! ON the disk we observed the following features:
To the far south the SPC was bright white, but it's boundary did not seem to be uniform and smooth.
Mare Erythraeum contained many interesting subtle spots and darker sections. Some thin brighter regions detected- possibly dust?
Chris looked quite bright.
Niliacus Lacus seen in the far north- looked as though there was some mist and haze on the far northern limb.
A hint of Sinus Sabeus present near the prec. limb.
Alas seeing became completely unstable by 0100UT and we closed down the observatory- from the fields we were treated to a nice display of noctilucent clouds!
Copyright of all images and other observations submitted to the BAA remains with the owner of the work. Reproduction of the work by third-parties is expressly forbidden without the consent of the copyright holder. For more information, please
contact the webmaster
.